Looking for awesome things to do in Cairo while you're visiting this iconic city? I've got you covered in this post! Cairo is one of my favorite cities in the world, and it's truly easy to see why. From being home to the last remaining wonder of the ancient world to the busy markets, from the delicious food to the strikingly green spaces, Cairo is a marvel!
Whether you're a history buff, a culinary connoisseur, an art enthusiast, or just a curious wanderer, Cairo's got plenty of experiences waiting for you. So, grab your shades and get ready to embark on an adventure that will take you back through time and discover Egypt's culture. From pyramid gazing to market haggling, here's a list of awesome things to do in Cairo that'll make you want to book yourself a flight ASAP.
Awesome Things To Do In Cairo
Cairo truly has everything; here you can expect to find plenty of shopping, delicious food, historical sites, nightlife, wellness, and more. I chose to put these things to do in Cairo into sections to make it easier for you to find what you're looking for.
If you're interested in itineraries, I have one for 3 days in Cairo, and one for 2 weeks in Egypt that are worth checking out to plan your visit!
Over 9 million people live in Cairo with another million just outside the city limits. This makes Cairo the largest in the Middle East and Africa, so you are sure to find plenty of awesome things to do in Cairo!
Cultural and Historical Sites:
If there's one things that Cairo is famous for, it's the cultural and historical sites. Most people visit Egypt just to come to Cairo and witness the Great Pyramids, and while visiting these giants are awe inspiring, there is more history in Cairo than just the pyramids.
Pyramids of Giza: Explore the iconic pyramids, the last ancient wonder of the world, and the Sphinx.
Egyptian Museum: Discover ancient artifacts, including the treasures of Tutankhamun and the royal mummies room. You could easily spend half a day here learning about Egyptian history.
Islamic Cairo: Becoming a World Cultural Heritage Site in 1979, Cairo is one of the world's oldest Islamic cities, and has the largest collection of Islamic architecture to prove it. Visit mosques like the Sultan Hassan Mosque and Al-Azhar Mosque.
Coptic Cairo: Explore churches and synagogues like the Hanging Church and Ben Ezra Synagogue.
Salah El-Din Citadel: Enjoy panoramic views of the city and visit the Muhammad Ali Mosque. Salah El-Din Citadel became a UNESCO World Heritage Site in 1976, which is fitting because this was the seat of Egypt's government from the 13th century to the 19th century.
Cave Church: The largest church in the Middle East, the cave church is also known as the Monastery of Saint Simon, and is located in Garbage City. Garbage city is named for the large amount of garbage collectors that live here. The church was constructed in the 10th century and, as the name suggests, is located in a cave. The church can hold up to 20,000 people, and the backdrop is gorgeous.
Shopping and Markets:
Khan El Khalili: Established in the 14th century, Khan El Khalili is a stop you can't miss while in Cairo! A visit to the market is like stepping back in time. Immerse yourself in the bustling bazaar for souvenirs, jewelry, spices, and more.
City Stars Mall: If luxury is what you're after, stop by City Stars Mall to shop for contemporary brands and enjoy various entertainment options in the over 700 shops.
Culinary Experiences:
Egyptian Cuisine: Indulge in local dishes like koshari, ful medames, and mahshi. I enjoyed Egyptian food much more than anticipated! I had been very excited to try koshari and it exceeded my expectations.
Food Tours: Join a food tour to savor authentic Egyptian flavors while learning about the culture. As an ancient civilization, Egyptian cuisine has been around for a long time and features lots of cheeses, grains, legumes, and vegetables.
Arts and Entertainment:
El Sawy Culture wheel: Opened in 2003, every year it chooses a theme that address social issues. Prior to becoming the El Sawy Culture Wheel, the area was a shelter for the homeless and those struggling with addiction. Now you can attend cultural events, art exhibitions, and music performances here.
Opera House: Enjoy ballet, opera, and classical music performances in Cairo's Cultural Center.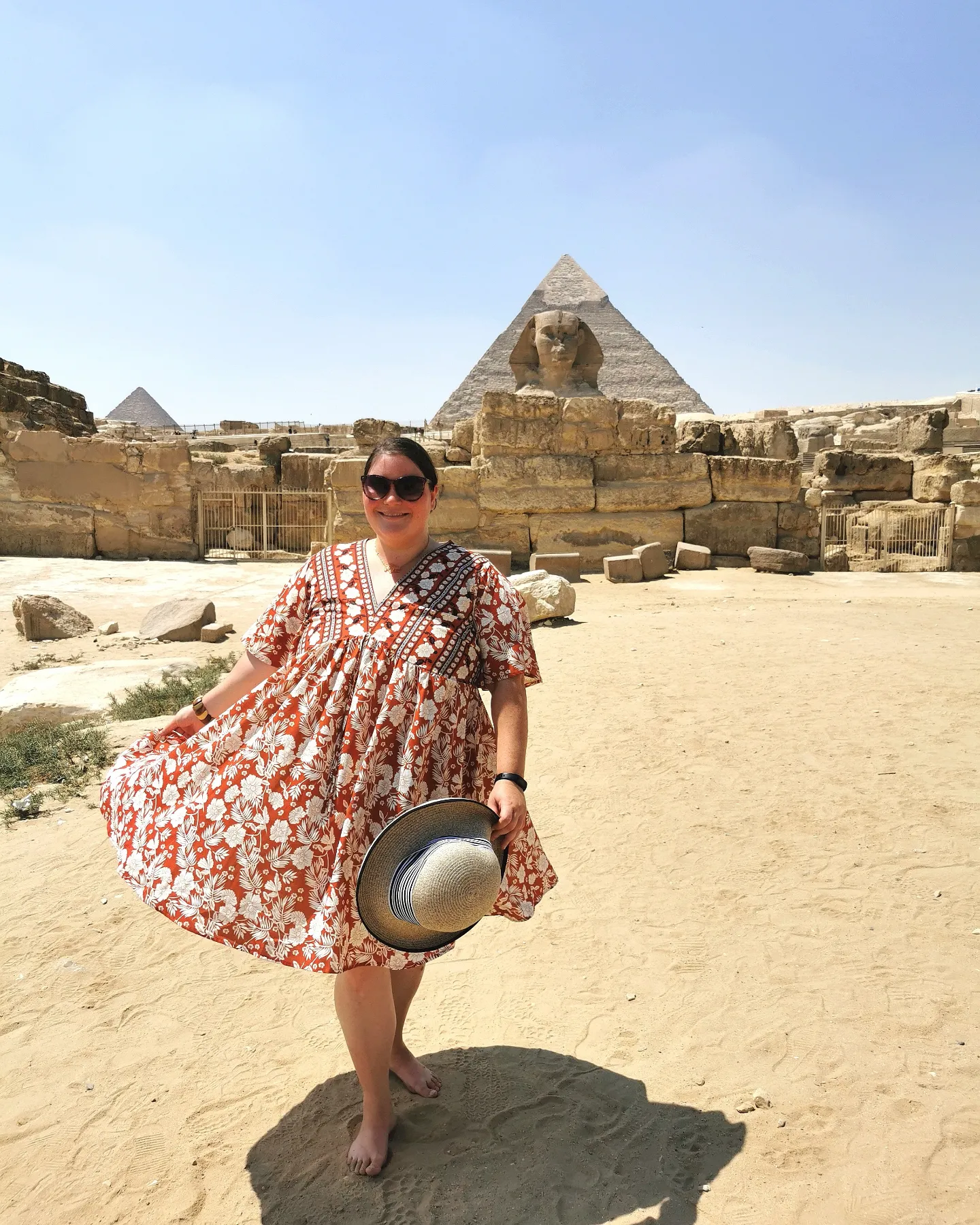 Exploration and Adventure:
Camel Ride at Giza: Experience the desert on a camel ride near the pyramids.
Day Trip to Saqqara: Visit the Step Pyramid and other ancient tombs in this archaeological site. The Step pyramid, also known as the Step Pyramid of Djoser, is known to be one of Egypt's earliest pyramids, and the first complete stone building in the country.
Relaxation and Wellness:
Al-Azhar Park: Unwind in one of the world's top 60 great public spaces and enjoy beautiful views of Cairo, located in Islamic Cairo. This is probably the greenest space you will find in Cairo, and it feels luxurious against the sandy backdrop.
Spa Day: Treat yourself to a relaxing spa day at one of Cairo's luxury spas. After all of the walking you'll be doing, getting pampered will feel incredible.
Local Experiences:
Ride a Felucca: Sail on a traditional Nile sailboat for a authentic Egyptian experience.
Coffee Shops: Enjoy the local coffee culture by visiting one of the many charming cafes.
Nightlife:
Zamalek Nightlife: Explore Zamalek's lively nightlife scene, including bars and clubs. I think Zamalek is one of Cairo's best neighborhoods, with some of the best things to do in Cairo being here.
Sound and Light Show at Giza: Witness the Pyramids illuminated at night with a historical narration. The Pyramid are always incredible, but seeing them lit up at night makes them feel just a bit more special.
FAQ's about Cairo
Where To Stay In Cairo
Budget Stay in Cairo – Cairo Hub Hostel
Midrange Stay in Cairo – Comfort Sphinx Inn & Hathor House
Luxury Stay in Cairo – Marriott Mena House & Kempinski Nile Hotel
A tip about where to stay. If you want those glorious rooftop pyramid views, stay in Giza. Giza has plenty of rooftops with views of the pyramids, so you can watch the evening Sound and Light show right from where you're staying.
How To Dress In Cairo
Egypt is a predominantly Muslim country, and as such, you need to dress respectfully. While certain tourist areas are more relaxed in coverage, such as the resort town of Hurghada, it is important to cover your shoulders, and not wear anything too revealing.
I have written an entire post dedicated to this topic, so if you need more information on how to dress respectfully while in Egypt, please check it out.
Useful Phrases To Know
No – La
Hello – Salaam Aleikum
Thank you – Shukran
Entry Requirements
Visitors coming to Egypt will need a Visa to enter. It used to be that visitors from Canada and many other countries could obtain a Visa upon arrival, but due to recent changes you now need to get a Visa from the Egyptian Embassy. This costs $25.
When Is The Best Time To Visit Cairo?
My first answer to this has to be anytime that isn't summer, because the heat is intense!
Spring lasts from March to June, where average temperatures range from 22 °C/ 71 F to 34 °C/ 93 F.
Summer lasts from June to September, where the average temperature is 40° C/ 104° F, but can often get hotter!
Fall lasts from October to December, where the average temperatures are the opposite of spring, from 34 °C/ 93 F to 22 °C/ 71 F.
Winter lasts from January to March, where the average temperature for the winter months are 21°C/80 F to 27°C/80 F.
With all of these awesome things to do in Cairo, you can expect to have the trip of a lifetime. And the best part? Most people tack Cairo onto an Egypt trip, so this is just the beginning of your trip to Egypt!
Which thing to do in Cairo would you most want to experience?