Last updated October 28th, 2023
This post contains affiliate links, which means that if you make a purchase through one of my links I will ern a small commission at no extra cost to you.
Egypt is a different world than what we Westerners are used to. I think living in Canada is as opposite as you can get to living in Egypt. I love experiencing a bit of culture shock and seeing just how diverse this Earth is. And if you've never been to a country like Egypt before, you will probably experience some culture shock. I decided to write this post to share some things to know before traveling to Egypt, because it isn't a place to you find yourself quickly adjusting to.
Egypt is home to some of the nicest people, but it never hurts to be extra prepared before going to a new country.
Something just to know right off the bat; if you want to see everything there is to see and do in Egypt, you'll need to spend some significant time here. Two weeks is more than enough time to see this big sites; think the pyramids of Giza, Abu Simbel, Alexandria, and the Valley of the Kings. But to see more than just the landmarks and get to know the Egypt that not everyone gets to see, you'll need closer to a month.
I spent just two weeks in Egypt, some days on tours, some on my own, and while I do think that was the perfect amount of time, I am left wanting more.
Egypt is a place to expose yourself to a different life than what you are used to. It is a county to experience, not check off a list. Remember where you are and respect the culture, it's exciting!
Things To Know Before Traveling To Egypt
Getting To Egypt, Cairo
Egypt has several airports, but most international flights will be arriving through Cairo International Airport. I flew in from Canada, and it was only two flights to get there, Vancouver to London, then London to Cairo. It was much easier than I anticipated.
Most people fly into Cairo and start the journey there, but you can also start your trip from Aswan International to start closer to the bottom and work your way up, Hurghada to start at a relaxing resort, or Sharm El Sheik to start your trip diving.
There are direct flights to Cairo from places such as Paris, London, or New York if you're from North America.
Where To Stay
There are all kinds of accommodation for you to choose from while staying in Egypt. You have your usual hotels and hostels, there are Airbnb's, guest houses, river cruises. You have your pick!
I stayed in 4 or 5 star hotels while on my group tour. But just so you know, 4 or 5 stars in Egypt are not the same as elsewhere in the world. By far my favorite hotel that I stayed in was the Movenpick Aswan. This glorious hotel is on it's own island, and you take a boat to get there. Fun fact, they have chocolate hour!
When not on my group tour, I stayed in a hostel called Cairo Hub Hostel. This was my favorite hostel that I've ever stayed in! The staff were the LOVELIEST, they were the most helpful people, insisting on waking up early to make me breakfast before my White Desert Tour, the hostel was so clean, the location (while very noisy due to Tahrir Square) was perfect. I will absolutely stay here again.
Best Time To Go To Egypt
I'm sure it comes as no surprise to you that Egypt is HOT. Absolutely stifling hot. The hottest months of the year are summer, so if you don't want to get heat stroke I would recommend traveling to Egypt between September and April.
The hottest months are June to October, but I went in September when it was still quite hot, however, I think September was a great time to go. It was perfect for snorkeling and swimming, but I did overheat while at The Valley of the Kings. I think if I were to go again (WHEN I go again) I would aim for October.
What To Wear
As Egypt is a Muslim country, dress modestly and respectfully. This means cover your shoulders and don't wear short shorts. Long, loose, flowy, this is what you want to wear. You want to wear comfortable clothes that you won't overheat in, but also clothing that doesn't attract unwanted attention.
I have an entire packing list for Egypt, but here is a quick rundown of what you should pack!
Long pants
Long flowy dresses or skirts
Loose fitting tops that don't show your shoulders (in Cairo, but in places like Dahab or Hurghada the dress code is much more relaxed)
Tank tops and kimonos. I lived in tank tops with long skirts, and kimonos overtop to keep my shoulders covered.
Short sleeved shirts
Scarves over everything!
Lightweight long sleeved shirts
Sandals with a strap on the back
Sneakers
Sunglasses
Hat!
Egypt Itinerary At A Glance
I spent 15 days in Egypt and truthfully, I could have stayed longer! I think two weeks is definitely enough, however, if you want to dig a bit deeper and get off the tourist trail, then you could definitely use an extra week.
I'm going to write a whole Egypt itinerary post to get into more detail, but for now I'll give you a quick itinerary at a glance. Let's base this off 10 days in Egypt.
10 days in Egypt itinerary
Start in Cairo. Day one has got to be spent in the capital of the country! Today is the perfect day to visit the last Ancient Wonder of the World, the pyramids of Giza. After being awed by the history, head to the Egyptian Museum. You can spend an hour or two here before getting lost in the maze of stalls at the market – Khan El Khalili.
Day two should be a day trip to Alexandria.
Day three fly to Aswan on an early morning flight, where you can experience life on the Nile. Maybe bring an Agatha Christie book for good measure! Today I would visit Philae Temple, ride a felucca boat, and end the day visiting the Nubian village.
Day four should be spent doing a day trip to Abu Simbel. This is the temple that impacted me the most, so I think you can't skip this if you make the journey to Egypt.
Day five drive to Luxor. You can either travel directly to Luxor, which takes about 3 hours, or you can make a day of it and do some stops. If you choose to make a day of it and do stops, be sure to stop at Kom Ombo, a double temple dedicated to Sobek, the crocodile headed God, and Horus, the falcon headed God.
Next you could stop at Edfu, a temple solely dedicated to Horus.
Once you arrive in Luxor, visit Luxor Temple at nighttime. It lights up and is beautiful.
Day six I would go directly to the Valley of the Kings. Just imagining the lives of the many kings and the rituals that took place here is exciting. After the Valley of the Kings, you could visit the tomb of Queen Nefertari (one of my favorite Egyptian Queens). She is buried in the Valley of the Queens, and is known to have a marvelous tomb.
If you aren't too tired of tombs, next up you could head to the Mortuary Temple of Hatshepsut, one of the most powerful Queens of Egypt. You don't need too much time here, but it is impressive for a quick visit.
To end the day, I would visit Karnak Temple, which is the second largest temple in the world. I could have walked here for hours, regardless of the heat.
Day seven If you can fit in a hot air balloon ride, now would be the time to do it. A hot air balloon over the Valley of the Kings is a very popular activity to do here, and well worth it! This afternoon is time to fly back to Cairo.
Day eight Today would be the perfect day to take a trip to the White Desert. This was the most magical experience of my life, so I HIGHLY recommend doing this.
Day nine After a night under the stars in the White Desert, it's time to drive back to Cairo. You can expect to arrive back to your hotel around 5 pm. As this is your last night, you should do any last minute things you want before heading home, possibly another visit to Khan El Khalili?
Day ten Time to head home!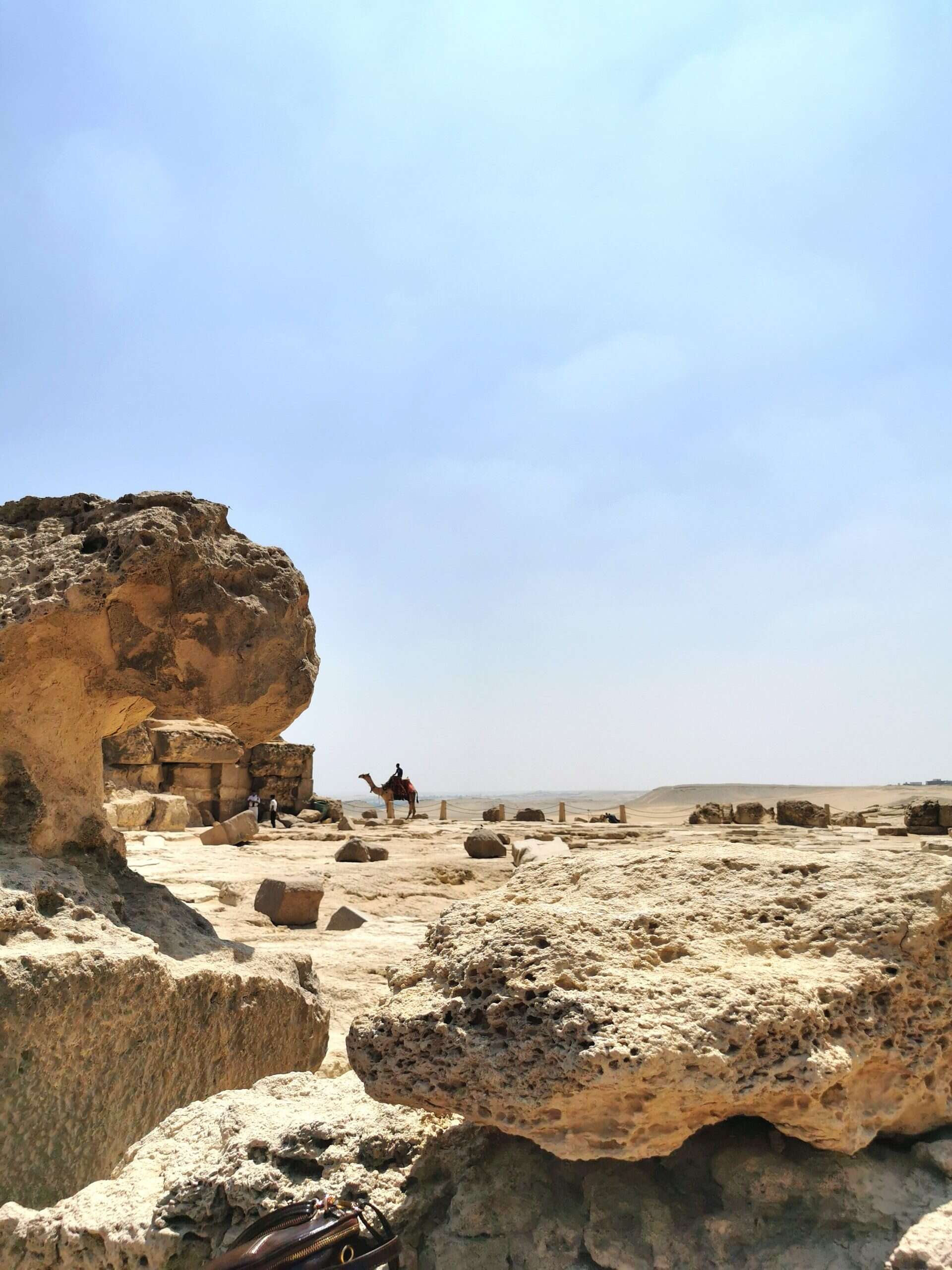 Egypt Fun Facts
Fun Fact #1! Egypt is home to the only remaining wonder of the Ancient World – The Great Pyramid of Giza!
Fun Fact #2! Egypt houses 7 World UNESCO sites! They are (my personal favorite) Abu Simbel, Wadi Al-Hitan (Whale Valley), Saint Catherine Area, Memphis and it's Necropolis, Abu Mena, and Ancient Thebes and it's Necropolis.
Fun Fact #3! Egypt is home to Mount Sinai, where Moses supposedly received the 10 commandments.
Fun Fact #4! Egypt is wedged between two different seas, the Red Sea and The Mediterranean Sea.
Fun Fact #5! Egyptians created the 365 day, 12 month calendar that we still use today!
Entry Requirements
Most visitors coming to Egypt will need a Visa. It used to be that visitors from Canada and many other countries could obtain a Visa upon arrival, but due to recent changes you now need to get a Visa from the Egyptian Embassy. This costs $25.
There are currently no Covid measures to take.
Practical Information
Egypt has a bit of a daunting reputation, especially for women. Personally, I never felt unsafe or threatened. Frustrated? Sure. But never unsafe. I felt safer walking in Cairo than I do in downtown Vancouver, and I believe the people there to be generally friendly.
Always follow common sense and safety precautions as a general rule. Don't draw attention to yourself by wearing inappropriate clothing, respect the culture.
Useful Phrases To Know
No – La. More often than not you say La over and over until they back off.
Hello – Salaam Aleikum
Thank you – Shukran
How Much is this? – Bikan Dah?
Weather
You will not be surprised to here that Egypt is HOT. I overheated at the Valley of the Kings, and ended up only being able to explore two of the tombs before needing to find shade. That being said, there are times you can go to Egypt and not melt.
The best times to visit for cooler weather would be between October to February. This is when the temperatures are at their coolest, and you won't risk heat stroke.
Shoulder season is March to May, when you can expect less crowds.
Don't go from June to August. This is admittedly a great time to go diving because the water is the clearest, but the temperature will soar.
I went in September, when it is still quite hot, but starting to cool down. Personally, I would aim to go again in October, when it's a bit cooler.
Food
The national dish is koshari, and my oh my, it is delicious! I feel like this dish perfectly sums up Egypt – wild, chaotic, but absolutely perfect. koshari is a mixture of lentils, rice, pasta, fried onions, tomato sauce, and spcies, all mixed in together.
I have been craving koshari since I came back from Egypt.
Other foods you'll find plenty of in Egypt would be dates (there are date trees everywhere!), pita, falafel, Molokhia (which is a thick green soup that tastes like spinach), stuffed veggies, stuffed pigeons, kebab, kofta. Lots of breads and rice. The food isn't amazing, unless we're taking falafel and koshari, but hearty and satisfying.
Money
The currency used in Egypt is the Egyptian Pound (EGP). It is very easy to take out money. I took some out in the airport, but there are plenty of ATMs all around, so you never need worry. Also, many major businesses accept Credit Card.
Tipping is expected in Egypt. Called Baksheesh, you tip anyone who does anything for you, or pay bribes.
Need to use a toilet? Pay a Baksheesh. Also want the luxury of toilet paper? Bay a Baksheesh.
Before getting into a taxi, make sure you negotiate the price.
Make sure you have cash on you, as it is customary to pay cash. Plus, you'll need small amounts to pay your tips!
Getting Around
Uber is available in Cairo! I've used it and felt safe. I prefer using Uber in Cairo over a taxi because with Uber you have the electronic record of your trip, whereas with taxi's you don't.
I had one friend experience harassment in a taxi, but thankfully she stayed in contact with me the whole time, so I knew what was happening.
Between Uber or a taxi, I would say Uber is safer.
Alternatively, the metro has a good reputation in Egypt. I personally stuck to Ubers so I can't confirm, but those I know who took the metro said it was clean and they felt safe.
Also Read
The Best Places You Need To Visit In Egypt
Visiting Philae Temple – The Temple of Love
Egypt isn't an easy destination, but it is, more often than not, a life changing experience. After seeing the hardships others face, and the wealth of my own country, trivial things aren't such a big deal to me anymore. It is a country to stays with you. "Egypt is not a country we live in but that a country that lives within us." Pope Shenouda III.