Discovering Puerto Vallarta With Estigo Tours was last updated on June 17, 2023.
This post contains affiliate links, which means that if you purchase through one of my affiliate links I will earn a small commission at no extra cost to you!
When planning our visit to Puerto Vallarta I knew that I wanted to do something that we usually don't do at home. Whether snorkelling, ATV riding, parasailing, or riding a dune buggy, Puerto Vallarta has plenty of options for every type of traveller. For our first full day, we decided to book an ATV tour with Estigo Tours. 
Estigo Tours stood out to me from the first time I viewed their website. They have several locations throughout Mexico and provide tours that range from ATV rides to boat trips, from zip lining to horseback riding. You are spoiled for choice when choosing to spend your day with Estigo Tours as they have so many day trips!
Originally we had been planning a horseback riding trip to the Sierra Mountains. This is a 3-hour horseback riding journey that sounded wonderful. However, as people who very rarely get on a horse, we knew we would be quite sore the next day. So we decided to not book the horseback ride. Instead, we chose an ATV tour. 
There are a few different ATV tours to choose from. There are the Coast and Jungle Adventure, the Sierra Madre Mountain Adventure, the ATV and Zip alone tour, and the Botanical Gardens & ATV Tour. 
With four different choices, we knew that we would have a great time no matter which tour we picked. 
Note: I stayed at both The Westin and The Marriott, but I always like to start my accommodations search by using Booking.com!
Discovering Puerto Vallarta With Estigo Tours
The Overview
After reading through each option thoroughly we chose the Coast and Jungle Adventure.
This 4-hour tour takes you along the coast of Banderas Bay, with a stop to see the famous Los Arcos. Next up you drive through the jungle to the Predator movie set. Yes, this is the main reason we chose this tour! After taking photos with the plane and a man dressed up as a Predator, you can take a quick dip in the natural pool there, which you may recognize as the water where Arnie comes out of the water in the movie! 
After, you'll get back on your ATV to drive to Boca de Tomatlan, a beautiful fishing village where you'll see some locals fishing with their nets. 
After enjoying drinks and a snack, it's time to head back to return your ATV. 
Your arrival at Estigo Tours
We were given two different options for tour times – 9 am or 2 pm. We went for the 2 pm tour since that allowed us to sleep in as needed (we went the day after we arrived), relax in the morning, and then head over.
We took a taxi from our hotel at the Westin to the Estigo Tours office, and when we arrived we were greeted by the friendly staff. After watching a video of what to expect, we were both given a bandana to put around our necks, just in case the off-roading bits got a bit too dusty. I only used mine once or twice, and only due to my having asthma (better safe than sorry!).
After our welcome, we were told that the tour was just going to be us, as the others who had signed up had cancelled. I always look forward to meeting other travellers while on group tours, but getting a private tour? Way cooler.
I wanted to spend our time enjoying the views rather than focusing on the road, so we chose a double ATV. When signing up for the tour you can either choose a single-rider ATV or a double-rider. This meant Scott got to do the driving of the ATV, which is exactly what he wanted. He had a blast doing the driving, and I enjoyed not driving 🙂 So it was perfect.
Our tour guide for the day was Waldo. He began his career as a mechanic and now leads tours, while still tending to the vehicles. Being a Puerto Vallarta native, he knew all about the city and was more than happy to tell us all about it. If you take a tour with Estigo and get Waldo, you'll have a great time!
Once we were shown all the different gears and pedals on the ATV, it was time to head out.
Off We Go
Driving through the town was great because we got to see so much of it that we may otherwise not have seen. Since we were there during Día de los Muertos or Day of the Dead, there were plenty of decorations up for us to admire.
Our first leg was driving along the Coast of the Bay of Banderas on the road, and making a stop at the Los Arcos lookout for photos. A popular snorkelling spot, getting to see Los Arcos from the lookout was gorgeous. Next time I visit Puerto Vallarta I am planning to either snorkel or dive Los Arcos.
The First Stop; El Eden
Next up was one of my favourite parts of the day – off-roading in the jungle to El Eden. The views we had driving into the jungle were just stunning. Off-roading is so much fun on its own, but doing so in the jungle makes it that much more fun!
El Eden is a popular spot for locals and tourists alike. A natural pool created from the Mismaloya River is surrounded by an open-air restaurant, and many people chose to slide down the natural rock water slide into the pool and get refreshed. While the iced tea that we had was indeed refreshing, the best part for us was the fact that this is where Predator was filmed. Yes, Arnold Schwarzenegger's Predator. After parking in the parking lot area, you walk down some steps to get to the restaurant. Before you turn down to the restaurant though, you get to see the plane that was used in filming Predator. Not only do you get to go inside the plane to check it out, but you also get to pose with a man dressed up as a Predator. I honestly can't imagine being in that outfit in the heat. He was a champ.
After our time checking out the plane and geeking out, we had some iced tea in the shade and then got ready to head to our next stop.
Get ready for a lot of photos coming up, from our experience at the Predator set and ATV-ing.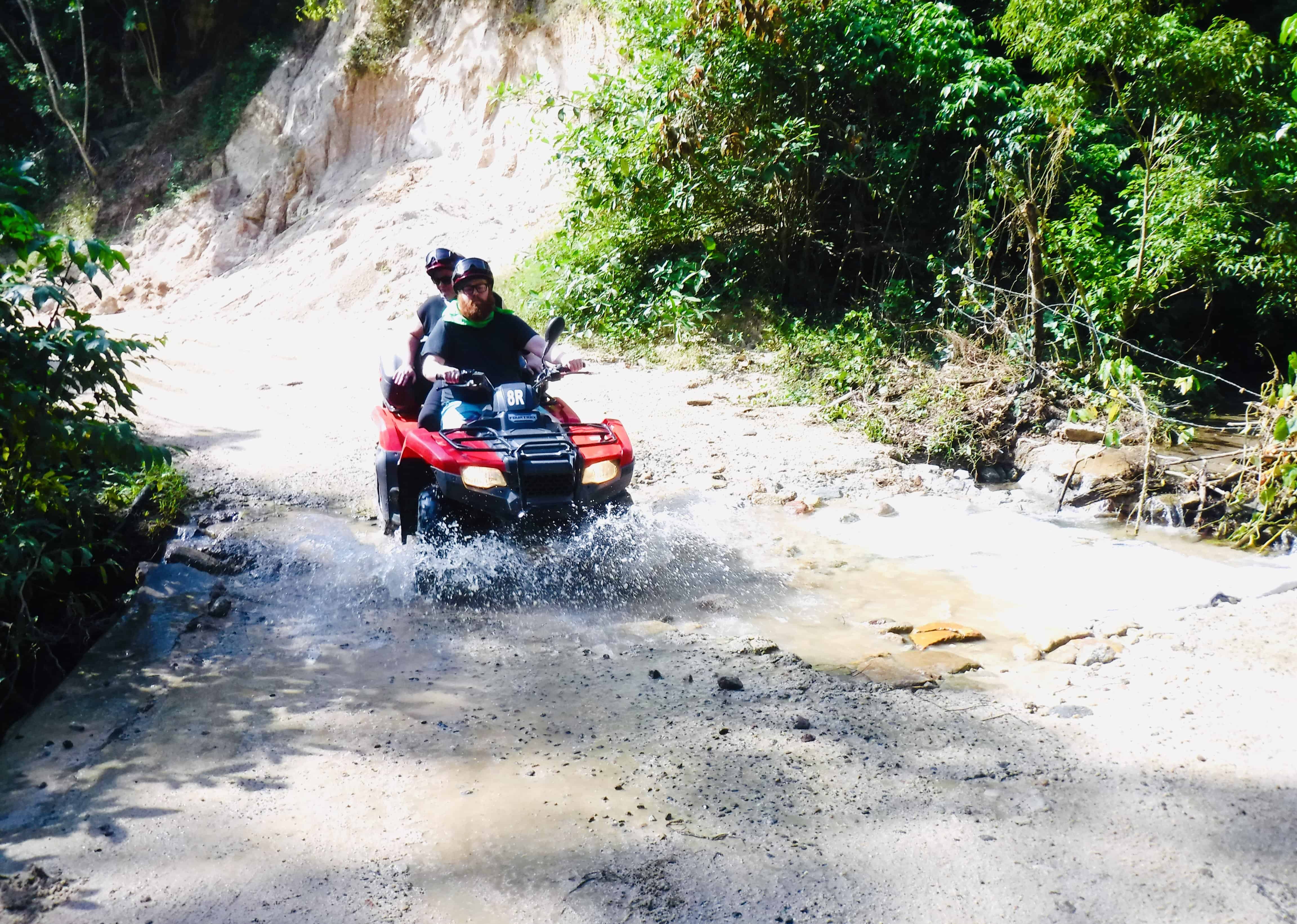 Second Stop; Boca de Tomatlan
Leaving the jungle was just as fun as arriving. We both loved off-roading. Between driving the ATV on the road or the jungle, I wholeheartedly choose the jungle. Going over each bump, through each puddle, was so much fun.
Once out of the jungle, we drove along the road once more. Our final stop of the day was the Mexican fishing village Boca de Tomatlan. Fun fact, the opening scene of Predator where the men arrive was filmed on this beach!
Being in Boca, as it is known by the locals, felt like being in the "real" Mexico. Only 11 miles South of Puerto Vallarta, here you'll find men fishing with giant nets, children and animals playing on the beach, and people relaxing while having a snack at one of the beachfront restaurants. Houses line both sides of the river, and here the ocean flows into the bay.
This is where the tour ends. After relaxing on the beach, it is time to drive back on the road to the Estigo office to return the ATV.
Overall Experience With Estigo Tours
We were so glad that we chose this tour. I'm sure that other tours with different companies would have been incredible also, but Estigo was so professional and made sure that we had a safe, great time. I felt like this is a company that truly cares about their customers, and would go above and beyond any time they can.
Both Scott and I agree that this was one of the highlights of our trip, and next time we go to Puerto Vallarta I expect us to be looking into other tours to take with Estigo.
Need To Know About Your Time With Estigo Tours
How long does the tour take? Approximately 4 hours.
Where do you meet? Honduras Street #135, the Estigo Office.
Any age requirements? Yes, the minimum age is 6 years old.
Additional info. All drivers must have a valid driver's license from their home country.
What's Included? A bilingual tour guide, a helmet, a bandana, gas, and throughout your journey your guide will be taking photos and videos to send to you for free!
What to bring? Sunscreen, bug spray, driver's license, swimsuit and towels if you plan to swim.
To note. Please bring cash for your stops. We paid for a photo with the Predator plane and a man in a costume. We didn't have to, but we wanted to. We also purchased a drink at both restaurants stops, as well as nachos to snack on in Boca.
If you are arriving on a cruise ship you can take a tour. Just give it 90 minutes from docking time. If none of the tour times work, just contact Estigo, they may be able to adjust times for you.
Please tip your guide. Tips are so important in Mexico, and Waldo did an incredible job!
Would you go on an ATV tour?
Do you enjoy the movie Predator?
Would you discover Puerto Vallarta with Estigo Tours?
Thank you to both Scott and Waldo for the photos in this blog post!