The Perfect Two Weeks in Egypt Itinerary was last updated on August 13th, 2023. This post contains affiliate links, which means that if you make a purchase through my links on this post I will earn a small commission at no extra cost to you!
Have you been dreaming of Egypt? I have too, so after my incredible trip I thought I should put together the perfect two weeks in Egypt itinerary so that way you too can experience this dazzling country.
Egypt is a land of mystery. The ancient history, the vast desert, the Red Sea, Nubian villages, treasure, the hieroglyphs; there are layers all over Egypt just waiting to be peeled back and discovered. The towering temples will blow your mind. "How did they do that?" is a common question you'll be asking yourself over and over.
Your two weeks in Egypt will be a journey you won't likely forget!
The Perfect Two Weeks In Egypt Itinerary
Things To Know Before You Go To Egypt
You will need a tourist visa to enter Egypt. These cost $25 USD and you can either apply online ahead of your trip or purchase at Immigration. I would just bring $25 USD cash to purchase at Immigration. It's easy.
You can take local Egyptian Pounds out at the airport.
Don't forget Travel Insurance! I use World Nomads personally.
Dress conservatively. I wrote an entire post dedicated to what to wear in Egypt, so check that out!
The official language here is Egyptian Arabic.
Is Egypt safe? Overall I would whole heartedly say yes! There is security everywhere, which made me feel very safe, but always be alert. Look out for scammers or pick pockets.
Expect to tip, called a Baksheesh, for just about everything in Egypt, from tipping the bathroom attendant for toilet paper, to tipping someone who took your photo. Come prepared with small bills.
How To Get To Egypt
It was easier to get to Egypt than I had anticipated! I was expecting it to be a few days journey with multiple layovers, but it was actually relatively easy. I was coming from Vancouver Canada, and my journey took me on two flights. The first was a 9 hour flight from Vancouver to London, and then my second flight was from London to Cairo, which is a quick 5 hours.
Most travelers arriving in Egypt will go through Cairo International Airport (CAI), so I decided it made the most sense to start our two weeks in Egypt in Cairo.
The airport is about a 25 minute drive from central Cairo, so you can either wait for a taxi, book an Uber, or arrange transportation via your hotel or a private transfer. However, if you want to wake up and go see the pyramids immediately then I would recommend staying in Giza, which is about an hour from the airport.
When Is The Best Time To Visit Egypt?
As a Northern African country that is also a part of the Middle East, you can expect your visit to Egypt to be hot.
The best time to visit Egypt would have to be anytime that isn't summer. October to April will have cooler temperatures but also plenty of sunshine, making these months the most ideal to plan your visit.
Summer months in Egypt are from July to September, and the average temperature is 40° C/ 104° F. As somebody who visited at the beginning of September let me tell you, it is sweltering hot. At the Valley of the Kings I overheated and had to sit in the shade, so I missed visiting King Tut's Tomb which was disappointing. I thankfully still was able to explore two of the tombs, but I needed to sit the others out.
Typically the hottest months are June, July, and August, and the coolest month is January.
Spring is from March to May, when the days are warm but strong sandstorms can suddenly appear. April and May are two of the best months to visit for those looking to spend time in the sea, in areas such as Hurghada, Dahab, and Sharm El Sheik, among others.
Summer is July to September, and during these months Egypt is sweltering! If you're willing to brave the heat and humidity then the country will be your oyster as most people choose to avoid these months. I never felt cool once while traveling Egypt in September, but instead became one with my sweat.
Fall is October to December. This is the best time to go as the temperatures start to cool down but remember, cooler temperatures does mean more tourists and higher prices, so keep that in mind if you want to visit during these months.
Winter is from January to March. Truthfully, December is a good time to spend in Egypt because the temperature during the day is warm, but not hot or sticky. However, many tourists escape to Egypt for Christmas, so if crowded places and sky high prices doesn't sound fun for you then I would avoid traveling at this time.
How Long Should You Visit Egypt?
This is completely up to you, but if you want to see a good chunk of what Egypt has to offer then I would recommend at least 10 days. I spent two full weeks and thought this was the perfect introduction to Egypt. If you just want to go to Egypt to spend time in Cairo and see the pyramids, I would just spend about 5 days in the country by following this 3 day Cairo itinerary and then adding on a day trip or two.
If you want a classic Egypt tour, aim for 10-14 days. And if you want to see as much as you can, aim for 3-5 weeks. It's completely up to you!
Best Places To See In Egypt
The White Desert
Abu Simbel
The Great Pyramids of Giza
Philae Temple
Siwa Oasis
Karnak Temple
Luxor Temple at night
The Valley of the Kings
Khan El Khalili Market
The Perfect Two Weeks In Egypt Itinerary
Tip – I think for your first time in Egypt, it's nice to hire a local guide to show you around. It takes a lot of stress out of your limited time here. You can book day tours through many companies like GetYourGuide, but there are also plenty of local companies that could use the money. I used iEgypte and loved them, but I also used Lady Egypt on my group trip and can say with full confidence that they are spectacular. Lady Egypt is more expensive but you get what you pay for. 
Cairo Day One: See the Pyramids!
Most people begin their Egypt trip in Cairo. The biggest draw? The pyramids of course! I think you should aim to spend 3 days in Cairo because it has so much to offer.
Cairo is famous for the pyramids, so I think you should spend your first day in ancient Egypt by visiting both the Step Pyramid and the Great Pyramids of Giza. I would recommend either hiring a guide or booking a tour so that way you can have someone bring you around without you needing to put too much into it. Cairo is overwhelming at first, so save yourself the stress. The nice thing about the tour I linked to is that it includes lunch, pick up and drop off, so that after your tour you can decide to eat dinner either at the hotel, or you could choose to walk around the neighborhood and find a place to eat. I would recommend finding yourself some Koshari, which is a traditional Egyptian dish that consists of lentils, chickpeas, various shapes of noodles, fried onions, and tomato sauce. It is delicious.
Where To Stay In Cairo
A tip about where to stay. If you want those glorious rooftop pyramid views, stay in Giza. Giza has plenty of rooftops with views of the pyramids, so you can watch the evening Sound and Light show right from where you're staying. 
Cairo Day Two: Explore Coptic and Islamic Cairo
Today is your day to explore the differences between Coptic and Islamic Cairo!
First things first, after breakfast at your hotel, take an Uber to the Coptic Museum. Apparently Coptic Christians are the closest descendants to Ancient Egyptians. I find that fascinating, especially because Coptic Christianity came to Egypt through Saint Mark in the first century AD. Coptic Cairo is the oldest part of the city, so just think of the history you're walking through! As a history nerd I love learning little tidbits like this.
Next up head to the Hanging Church, one of the oldest churches in Egypt! It is also the most famous church in Coptic Cairo and a huge draw for tourists looking to learn more about the faith practiced in Egypt.
Tip – The Hanging Church is free to enter, but please dress modestly. There isn't a strict dress code in place, but cover your head, knees and shoulders out of respect. I have a post on what to wear in Egypt as women if you're needing advice on how to dress comfortably and respectfully.
Next to the Hanging Church is where you'll find Ben Ezra Synagogue, which is supposedly where baby Moses was found. This Synagogue is temporarily closed, so check online to see if it is open if you plan to go. Otherwise since it's just next door, it's worth a look since you'll be right there anyways.
Afterwards head over to the Cairo Citadel. This medieval fortress has been defending the city since the 13th century and was home to Egypt's rulers from the 13th to 19th centuries. It is now a preserved historic site, and very impressive looking!
While you could do all of these activities on your own taking Ubers, you could also just book a day tour and have everything taken care of, which might be a better option. I would suggest this tour, as it covers what I've mentioned above, but it also includes a few extra stops and an Egyptologist.
For dinner tonight I would head to Zooba! I sadly never got to eat here while I was visiting, but multiple people told me how delicious the food is here, so if you can fit it in, please go! You can Uber back to your hotel afterwards to spend the evening lounging.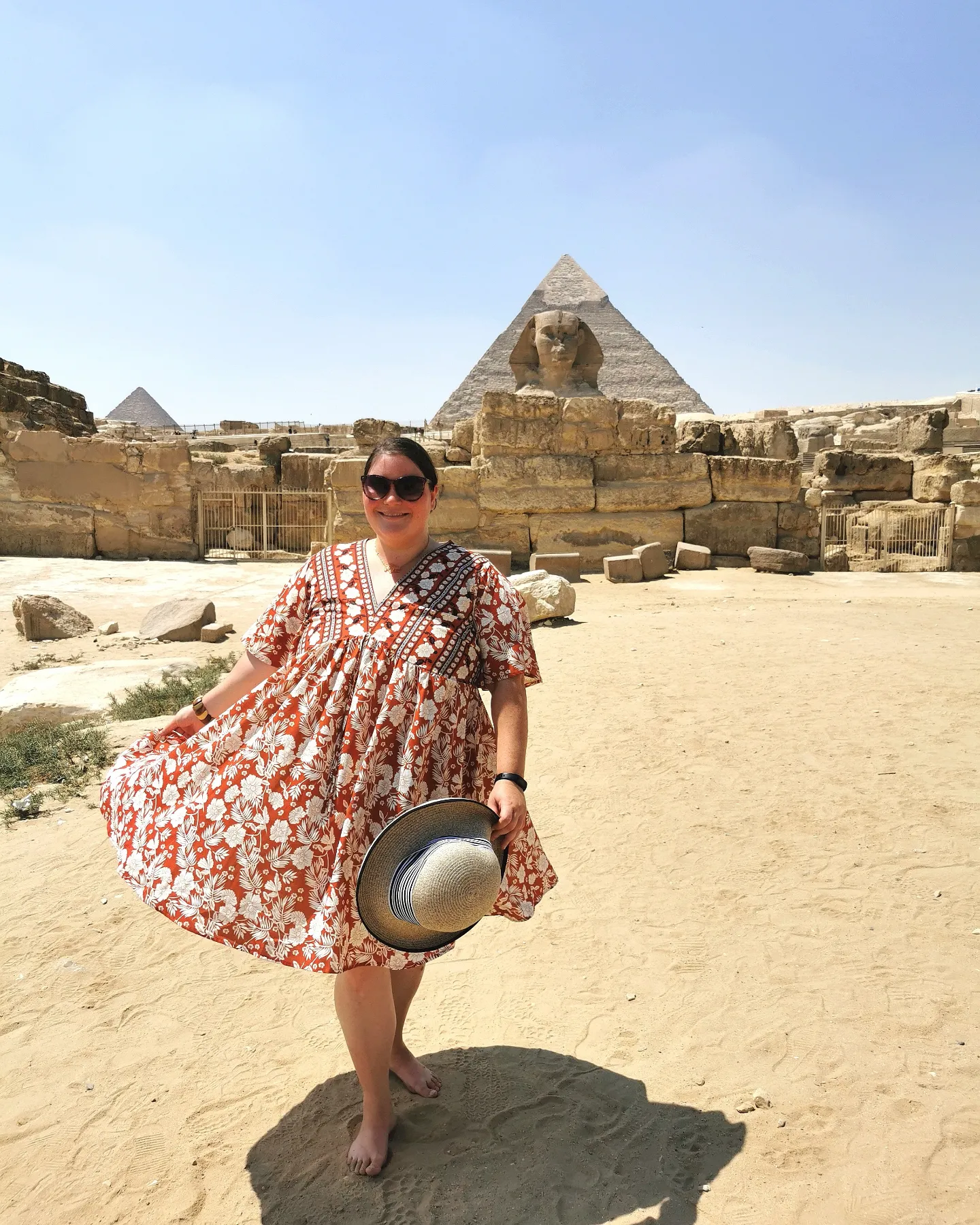 Cairo Day Three: Antiques, Markets, and Parks
Although the tour I recommended up above also includes a stop at Khan El Khalili, I would include going back today. The market is so big you won't see it all in one stop, so it makes sense to go more than once. 
Time to head to the Grand Egyptian Museum! I visited the old Egyptian Museum, and when I stayed in Cairo Hub Hostel it was just across Tahrir Square. They are in the process of moving all the artifacts from the old Egyptian Museum to the new one, so depending when you go you may go to the old museum or the new one. I can't wait to go back and see the new Grand Egyptian Museum! The old museum was really interesting, but it was so hot inside and not all of the items were there.
If you're visiting the old Egyptian Museum, when you're finished there you should head over to Cairo Tower. It's about a 20 minute walk, or you could Uber if you don't want to brave the heat.
Once here, you can go up to the observation deck to get one of the best views of Cairo! You can choose to have lunch at the café here or at a nearby restaurant.
For your final afternoon I would go to Al-Azhar Park, which is the greenest space in Cairo. Originally a landfill, it was converted in the mid 2000's to a green space that all can enjoy. You do need to pay a small fee, but that's for both tourists and locals alike.
After a stroll in one of the worlds sixty great public spaces, walk the 20 minutes or so through Historic Cairo to one of the most impressive markets in the Middle East that is close to 1000 years old.
Khan El-Khalili, a dizzying maze of stalls filled with anything you could hope to find. Here you'll find gold, jewelry, scarves, clothing, antiques, trinkets, artwork, hookahs, lamps, perfumes, and even frankincense. Not only do you see goods being sold, sometimes you can see goods being created.
Khan El-Khalili has been around since the 14th century, and is an integral part of Egyptian life. There are stalls and cafes here over 100 years old! This is one of the oldest souks in the Middle East, meaning I geeked out while thinking of how much history I was surrounded by.
There are quite a few restaurants and cafes throughout the market, so I would eat dinner here before taking an Uber back to your hotel.
Alexandria Day Four: See the location of one of the Wonders of the Ancient World on this Alexandria Day Trip.
Oh Alexandria, once one of the most important cities in the world, this city is no longer the powerhouse it once was, but is still a beautiful day trip from Cairo. The second largest city in Egypt, and the largest on the Mediterranean coast, the city grew so quickly that it soon overtook Memphis as the capital of Egypt.
As a history nerd, you can bet I had a great day there and would like to go back. I think a day tour like this one would be perfect.
The city was founded by Alexander the Great and was once home to the Library of Alexandria, which was one of the 7 Wonders of the Ancient World. An intellectual and cultural city, scholars flocked to the Library of Alexandria to study, discuss philosophy, the human mind, and learn from each other.
Alexandria was home to Cleopatra, the final Pharoah of Egypt, and her infamous Palace, which is now underwater. The amount of history in this city, which was the largest in the ancient world before the Roman conquest.
Yet another historically significant city in Egypt, I absolutely suggest you pay a visit!
Later get dropped off at your hotel, and prepare for an early flight to Aswan.
Aswan Day Five: Fly to Aswan, Philae Temple
Wake up for your morning flight to Aswan, which takes less than 2 hours. I liked the vibes in Aswan as it was much more relaxed than Cairo. After you check into your hotel, take a taxi to the Marina Philae Temple. Here you can take an official boat to transport you over to the island, it's included in your ticket price of £150EGP.
Philae is one of the best preserved temples in Egypt. Also called the Temple of Love, this temple is dedicated to the Goddess Isis. Not only is this temple beautiful, in a stunning location in the water, the island is filled with cats! This temple is not one to miss!
After your visit to Philae Temple, stop at the Nubia Museum. This is a small, but important museum to learn more about Nubian culture. Nubians are Indigenous People from Southern Egypt, and were one of the earliest civilizations, in what is now Southern Egypt and Northern Sudan.
After the museum if you're still wanting to explore, you could stop to see the Unfinished Obelisk, which is over 3,500 years old.
Where To Stay in Aswan
I stayed at the Movenpick, which is actually on Elephantine Island. You need to take a boat over, and was such a beautiful hotel!
If you feel like spending some money, you could stay at the very historic Old Cataract Hotel, where Agatha Christie wrote Death on the Nile. I was on a felucca boat at night and we sailed past. It looked lovely!
Other places to stay
Aswan Day Six: Day Trip To Abu Simbel
Abu Simbel was my absolute favorite historic site that I visited while spending two weeks in Egypt! The disgustingly early wake up call was sooooo worth it! I was far more impressed by Abu Simbel than I was with the Great Pyramids.
Yes it was sickly hot. And yet I could have stayed longer. Built in 13th century BC during the reign of Pharoah Ramesses II, one of the twin temples is for him and dedicated to the Gods Ra, Amun, and Ptah, while the smaller of the temples is for his Chief wife, Nefertari, and dedicated to the Goddess Hathor.
The reason Ramesses II had these temples built in Aswan is because at the time of construction Egypt ruled over Nubia, so he thought that having these temples here would help Egyptize the Nubians and win them over.
While Philae Temple may be known as the temple of love, we can't deny the love that is here at Abu Simbel. While Ramesses II was primarily in love with himself, he truly loved his chief wife Nefertari, and the fact he built a twin temple for her is very impressive and romantic, in my mind. Imagine being married to a man who has over 200 wives and concubines, but he still chose Nefertari over any other. That wouldn't fly now, but back then it was normal.
Abu Simbel is one of several temples in the area that had to be moved to avoid being swallowed up by Lake Nasser when the Aswan High Dam was built. They moved these statues piece by piece. This project occurred between 1964 and 1968, and in 1979 Abu Simbel became a UNESCO World Heritage Site.
One of the reasons I find Abu Simbel to be so impressive is because of the probable solar alignment. It is thought that the location for the temples was chosen so that way twice a year the sun would align on the face of Ramesses II. Even more interesting is that these weren't just any random times per year, but rather his birthday and the other his coronation day. Another fine time to ask the question "how did they do that?".
I truly think this is one of the most magnificent spots in Egypt, so I would recommend doing a day tour that picks you up and drops you off from your hotel. Keep in mind it is a long day because Aswan to Abu Simbel is approximately a 4 hour drive.
A little scarab beetle
Sailing Day Seven: Check Into Your Nile Cruise And Sail To Kom Ombo
Prior to my visit to Egypt I hadn't considered a Nile cruise. Towards the end of my visit I realized my mistake. Every traveler I spoke to about a Nile cruise raved on and on about how it was the best part of their trip, and it made me realize how magical sailing down the Nile would be.
Choosing the perfect cruise provider can be tricky, quality and cost varies vastly. I knew several people who waited to book their cruise until they were in Egypt, but I personally would probably book a cruise prior. One I would look into would be this one with Tour Radar.
On this cruise I chose, and the basis of many others, you sail to Kom Ombo to visit the temple, then overnight on the cruise in Edfu. Kom Ombo was once the temple dedicated to the crocodile God Sobek. At Kom Ombo there is a crocodile museum filled with mummified crocodiles.
Everyone I spoke to told me of how much fun they had hanging out with the other guests on the cruise and how it felt like a giant party/sleepover!
Sailing Day Eight: Edfu to Luxor
Today you start the day by visiting Edfu, which is home to the Temple of Horus. Horus was one of the most significant of the ancient Gods, and was known for his Falcon headed appearance. He first appeared in Ancient Egyptian religion as the God or War and the Sky, and was married to the Goddess Hathor.
As time and religion progressed, he became the son of Osiris and Isis, and was the one who avenged his fathers murder by fighting and killing his uncle Seth. While he did destroy Seth, Horus still lost an eye to his uncle, and we now have the Eye of Horus as an amulet. Horus is also thought to have been the helper of the almighty God Ra.
After Edfu you sail on to Luxor, where you will overnight on the cruise.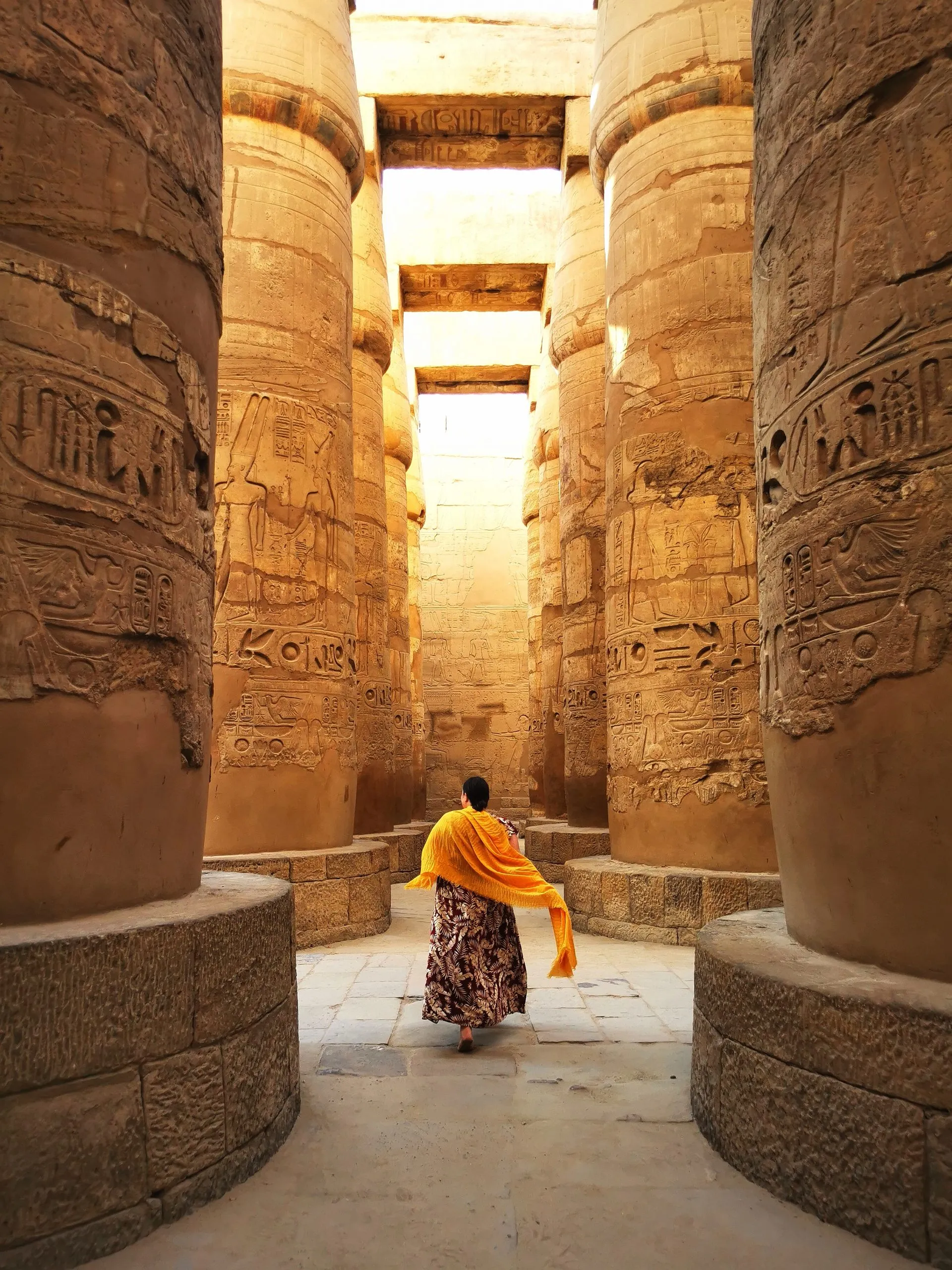 Luxor Day Nine: Sail To Luxor, Karnak Temple and Luxor Temple
Now that you've arrived in Luxor, it's time to see the massive temples! Luxor is considered the world's greatest open air museum and was an extremely important city – this is the famous ancient Thebes!
I would visit Karnak Temple during the day and save Luxor Temple for nighttime. The reason? Luxor Temple lights up at night time! Getting to hear the call to prayer while wandering the ancient pillars that were lit up was just enchanting.
Karnak Temple is thought be to the location where Creation began. At the height of its popularity, it was not only the most important religious site, but also the largest. The temple is huge, having taken over 1,000 years to be complete and influenced by dozens of pharaohs who added to it.
You should aim to spend 2-3 hours here since it is massive.
Connecting Luxor Temple to Karnak Temple used to be what was called the Avenue of Sphinxes. There were Sphinxes with Ram heads on either side of the road, showing people the way.
Afterwards you could grab lunch somewhere, and then hop on a felucca boat to sail away an hour or two. These slow moving boats have been part of Egyptian life for centuries, helping people cross the Nile. You simply cannot visit Egypt without boarding one! You can pay for a private ride and have the boat all to yourself.
I would end the day by visiting Luxor Temple while it's lit up at night. Built by Amenhotep III to symbolize the renewal of kingship, and he believed that his birth was divine; he stated that his father was the God Amun who had taken on the body of his father, Thutmose IV, to deliver him the crown.
Amenhotep III wasn't the only Pharaoh to work on Luxor Temple though, Tutankhamun, Horemheb, and Rameses II contributed to the temple.
Luxor Temple is open until 10 pm, and it huge, beautiful, and absolutely amazing to see in the middle of the city.
There are plenty of restaurants around the temple to eat dinner either before you go or afterwards.
Luxor Day Ten: Hot Air Balloon, Valley of the Kings, Valley of the Queens
Start your morning with a hot air balloon ride over Luxor! Get picked up from your hotel before a beautiful sunrise over The Valley of the Kings, before being dropped off at your hotel again to go explore what you just saw from above!
Everyone has heard of the Valley of the Kings! This is where Howard Carter discovered the Tomb of King Tutankhamun, and we learned that this rock valley is where Pharaohs, nobles, nobles wives and children, were buried for over 500 years.
I overheated while here because it is HOT. I sadly was only able to check out two of the tombs (out of a possible 8) before needing to sit in the shade and hydrate, but the tombs I did explore were incredible! The carvings on the walls are amazing (you may find an alien carved into the walls of one tomb…) and the detail and color on the carvings are preserved quite well!
I will say I'm glad I visited with a tour group because logistics are confusing. I was reading a blog post that is filled with all the info you could need, so if you want to visit The Valley of the Kings, read it!
Afterwards head to the Mortuary Temple of Hatshepsut, the longest-reigning female Pharaoh! She was known as the woman who was King, and is remembered for bringing great wealth to the country, established the most successful (and nonviolent!) trading expeditions, and is remembered for declaring herself king and wearing male clothing after her husband died. A truly badass woman.
Stop at the Colossi of Memnon. Amenhotep III was known as one of the Greatest builders of Egypt, with a lot ancient Thebes being attributed to him. The Colossi of Memnon are two massive stone structures of Amenhotep III, and stand in front of the ruin that was once his mortuary temple.
Other West Bank Tourist Attractions To See
Howard Carter's House – it is now a museum!
The Valley of the Queens – dedicated to the Queens and Princesses
The Valley of the Workers – an ancient village where artisans to the Valley of the Kings lived.
Where To Stay in Luxor
Cairo Day Eleven: Fly Back To Cairo
Fly back to Cairo. Here you can check into your hotel and have a free day to check out anything else you're still missing in Cairo, or anything you want to go back and do again!
White Desert Day Twelve: White Desert Overnight Tour
This was my favorite part of my two weeks in Egypt! As soon as I learned of the White Desert I knew I had to go there. My decision was between Siwa Oasis or the White Desert, and while I absolutely need to go back to Egypt to see Siwa, my heart knew I needed to choose the White Desert.
The White Desert looks more like Mars than elsewhere on Earth. Once a sea floor, the desert is part of the Farafra depression in the Sahara. The white that covers the ground is a chalky layer of limestone, and there are limestone figures that have nicknames such as the bunny and the chicken.
I think the White Desert deserves an entire post to itself, so you can read that if you want to discover the magic of the desert!
Cairo Day Thirteen: Back to Cairo
After arguably the best night of your life, you'll arrive back in Cairo between 5 and 6 pm. This will be your last night in Egypt, so eat Koshari for the last time, pack, and get a good nights sleep!
Day Fourteen: Fly Home
This perfect two week Egypt Itinerary is perfect for first timers to Egypt who want to get a taste of the history this country has to offer. I would prioritize the White Desert over Hurghada personally. Having done both, I wasn't overly impressed with Hurghada – it just felt like any other resort town. I also found majority of the guests there to be very rude.
The White Desert is a magical place, and I would wholeheartedly choose to spend the time and money to go back for another overnight there before heading back to Hurghada.
If you have longer, I would recommend visiting Siwa Oasis, Dahab, and Sharm El Sheik. I didn't include those spots in this two week Egypt itinerary because I haven't visited those spots, and they aren't really "historical" Egypt. I think if you have three weeks in Egypt then adding those spots in would be perfect. I am already dreaming of going back to Egypt because now that I'm a certified diver, I really want to spend some time diving the Red Sea. And Siwa Oasis looks so dreamy, I NEED to go there.
Where would you go with two weeks in Egypt?