Last Updated October 28th, 2023
This post contains affiliate links, which means that if you make a purchase through my links on this post I will earn a small commission at no extra cost to you!
Cairo is intense; chaotic, dusty, busy, there is constant movement. It is also historic, beautiful, impactful. It is a massive city, and you can't see it all on just one trip. But just how long should you spend in Cairo? I wrote this 3 days in Cairo itinerary to give you a proper introduction to this historically significant city.
The capital city of Egypt, Cairo is usually the first stop many make on their trip to Egypt. One of the most historic cities of the ancient world, I think you need at least 3 days in Cairo to truly get a feel for this ancient treasure. And if you're anything like me you will be left wanting so much more.
3 Days In Cairo Itinerary
Where Is Cairo?
Located in the Northeastern corner of Africa, Egypt is both on the African continent and a part of the Middle East, with influences from both.
Cairo is spellbinding. You'll find endless vendors selling their wares, nonstop traffic, dusty of alleyways. There is a constant clash of old versus new. There are young women in jeans and t-shirts, but the older women are nearly always in a long sheath. You see modern skyscrapers and highways, but also the Great Pyramids of Giza in the background. You see buildings decaying or destroyed, but then there will be a brand new building right across the street. This city is so chaotic, but you just can't get enough.
Egypt is constantly changing; a local told me that every time he went home to Cairo he found himself not recognizing the city. This mean that each time you visit Cairo, it will be a new experience.
Why Is It Significant?
Nearly every person who travels to Egypt will be stopping in Cairo, if only to view the Great Pyramids of Giza, the oldest and the only remaining of the Seven Wonders of the Ancient World. Egypt is home to SO much history, with new artifacts and tombs being discovered constantly.
Ancient Egypt has influenced our modern lives greatly, more than most of us realize. The Egyptians were pioneers of modern science. They understood various sicknesses and knew what to use to treat them, and they even performed surgeries. Ancient Egyptians were the first to develop written language, and they excelled at architecture. It is still a mystery to us how they designed and built many of their structures. They were excellent mathematicians, and are the reason we have our modern daily calendar.
Cairo was founded as a city in 969 CE, but is also so close to the previous capital Memphis, meaning the history here is very old indeed.
How To Get To Cairo
Most travelers arriving in Egypt will go through Cairo International Airport (CAI). It is actually relatively easy to get to Cairo as there are so many direct flights from Europe. As somebody coming from Canada my journey took me on two flights; the first was a 9 hour flight from Vancouver to London, and then London to Cairo, which is a quick 5 hour flight.
The airport is about a 25 minute drive from Cairo, so you can either wait for a taxi, book an Uber, or arrange transportation via your hotel or a private transfer. However, if you want to wake up and go see the pyramids immediately then I would recommend staying in Giza, which is about an hour from the airport.
The Best Time To Visit Cairo
The best time to visit Cairo is when it isn't summer! Egypt's heat is oppressive, so just imagine how hot the summers there feel. Summer months in Cairo are July to September, and the average temperature is 40° C/ 104° F. I visited in September and let me assure you, the heat is no joke. I would visit again in September (because Egypt!), but would much prefer to visit in October when the days are still hot, but a bit cooler.
Spring is from March to May, when the days are warm but strong sandstorms can suddenly appear. April and May are two of the best months to visit for those looking to spend time in the sea.
The average temperatures in Spring range from 22 °C/ 71 F to 34 °C/ 93 F.
Summer is July to September, and during these months it is sweltering! If you're willing to brave the heat and humidity then Cairo will be your oyster, as most people choose to avoid these months.
The average temperature is 40° C/ 104° F, but can often get hotter.
Fall is October to December. This is the best time to go as the temperatures start to cool down but remember, cooler temperatures does mean more tourists and higher prices.
The average temperatures for fall is the opposite of spring, from 34 °C/ 93 F to 22 °C/ 71 F.
Winter is from January to March. Truthfully, December is a good time to spend in Cairo because the temperature during the day is warm, but not hot or sticky. However, quite a few tourists flock to Egypt for Christmas, so if crowded places and sky high prices doesn't sound fun for you then I would avoid this time.
The average temperature for the winter months are 21°C/80 F to 27°C/80 F.
How Long Should You Spend In Cairo?
Cairo is a huge city with an even bigger population, 10 million. It can be very overwhelming trying to decide how to plan your time while in Egypt.
I think you should spend at least 3 days in Cairo, but if you could swing longer then that would be better. Altogether I spent 5 days in Cairo, but I absolutely need to go back to explore more. I'll be adding a few things to this itinerary that I didn't get to do, but I think they need to be done to get to know Cairo better.
3 days in Cairo is enough time to see the big sites, but not enough time to know the city as it's just too big!
You May Also Want To Read – 14 Important Things To Know Before You Go To Egypt.
Where To Stay In Cairo
There are endless places to stay in Cairo. You can find small boutique hotels, the most luxurious hotels you can hope for, hostels, Airbnb, mid size hotels; literally whatever you're looking for you will find.
A tip about where to stay. If you want those glorious rooftop pyramid views, stay in Giza. Giza has plenty of rooftops with views of the pyramids, so you can watch the evening Sound and Light show right from where you're staying. 
I use Booking.com for most of my travels and have had only great experiences thus far.
3 Days In Cairo Itinerary
This Cairo itinerary is a perfect introduction to the city; you get to see the big sites that every traveler to Cairo needs to see. I did not get to do everything on this Cairo itinerary, which was disappointing. I never got to explore Coptic Cairo nor see the Step pyramid. I already know I'll make it back to Cairo one day so I can finally see the other things I need to see.
But I don't want you to miss out, so they are included here in this Cairo itinerary!
Tip – I think for your first time in Egypt, it's nice to hire a local guide to show you around. It takes a lot of stress out of your limited time here. You can book day tours through many companies like Viator, but there are also plenty of local companies that could use the money. I used iEgypte and loved them, but I also used Lady Egypt on my group trip and can say with full confidence that they are spectacular. Lady Egypt is more expensive but you get what you pay for. 
Day 1
When I arrived in Cairo I landed at midnight. I can't guess when your flight may arrive, so I would count day 1 as your first full day you're able to explore. For me arriving at midnight, I got to my hotel to sleep around 2 am, then woke up very jetlagged. After the fastest breakfast of my life before I needed to lay down again, I didn't make it out until later that afternoon. But maybe you're tacking Cairo onto the end of your Egypt trip, or you're not traveling from Canada. Take day 1 as the day when you can get out and explore.
For me the first thing I would need to see in Cairo would be the Great Pyramids of Giza! You want to be one of the first visitors there, both to beat the heat and the crowds, so make sure you arrive early.
Tip: April – September the pyramids open 7am – 6 pm. October to March it is 8am – 4pm. To beat the crowds I would make sure to be there for opening.
People don't realize just how huge the pyramid complex is. Personally I would visit the pyramids through a guided tour. This will mean that your transportation between the Sphinx, Great Pyramids, and view points will be taken care of. I would say you need about 3 hours here – anyone who says an hour and a half is simply wrong.
Alternatively you can do this on your own. To survive the pyramids on your own you can take an Uber to the main entrance, and just expect a lot of hassle from vendors. There will be men draping scarves over your shoulders or offering you "gifts". Avoid eye contact and you'll be fine. Cairo isn't as rough as people may assume, and while you do not need a guide, it is nice to have a guide to take the stress out of your trip though.
To avoid this hassle, book a tour. You can book a half day tour, or a full day tour that also takes you to Egypt's oldest pyramid, the Step pyramid of Djoser. Not only is Djoser the oldest pyramid in Egypt, it is also the oldest stone structure!
I would book this tour that gives you a full day visiting both the Great Pyramids, and the step pyramid. Tours like this one are great because they pick you up and drop you off from your hotel, cover your entrance, and you get to learn with an Egyptologist.
I didn't have enough time to make it out to Memphis, so I never got to see the Step Pyramid which I believe would be really impressive. I plan to book the tour I linked to above next visit, since transport and entrance fees are taken care of.
The nice thing about this full day tour is you can eat breakfast at your hotel and then choose where to do dinner once you're dropped off. I would ask either your guide or hotel for dinner recommendations in your area. Maybe you could end your evening with a walk around the neighborhood you're staying in, or you could rest up to beat that jetlag!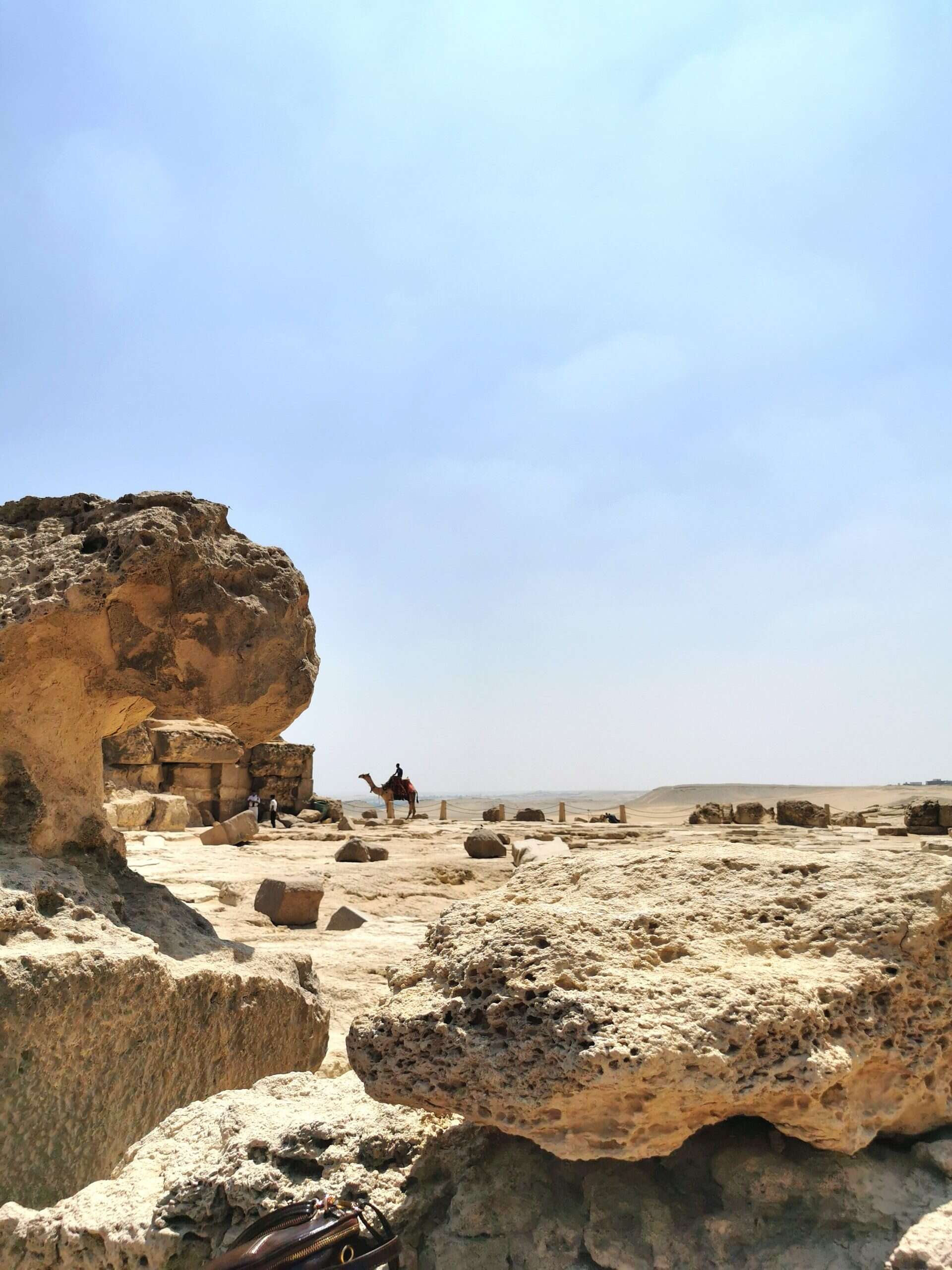 Day 2
Today is your day to explore the differences between Coptic and Islamic Cairo!
I missed doing this so this is the first thing I plan to do when I get back! First things first, after breakfast at your hotel, take an Uber to the Coptic Museum. Apparently Coptic Christians are the closest descendants to Ancient Egyptians. I find that fascinating, especially because Coptic Christianity came to Egypt through Saint Mark in the first century AD. Coptic Cairo is the oldest part of the city, so just think of the history you're walking through!
Next up head to the Hanging Church, which is one of the oldest churches in Egypt! It is also the most famous church in Coptic Cairo and a huge draw for tourists looking to learn more about the faith practiced in Egypt.
Tip – The Hanging Church is free to enter, but please dress modestly. There isn't a strict dress code in place, but cover your head, knees and shoulders out of respect. I have a post on what to wear in Egypt as women if you're needing advice!
Next to the Hanging Church is where you'll find Ben Ezra Synagogue, which is supposedly where baby Moses was found. This Synagogue is temporarily closed, so check online to see if it is open if you plan to go. Otherwise since it's just next door, it's worth a look!
Afterwards head over to the Cairo Citadel. This medieval fortress has been defending the city since the 13th century and was the home of Egypt's rulers from the 13th to 19th centuries. It is now a preserved historic site, and very impressive looking!
While you could do all of these activities on your own taking Ubers, you could also just book a day tour and have everything taken care of, which might be a better option. I would suggest this tour, as it covers all I've mentioned above, but it also includes a few extra stops and an Egyptologist.
For dinner tonight I would head to Zooba! I never got to eat here while I visited but multiple people told me how delicious the food is here, so if you can fit it in, go! You can Uber back to your hotel afterwards to spend the evening lounging.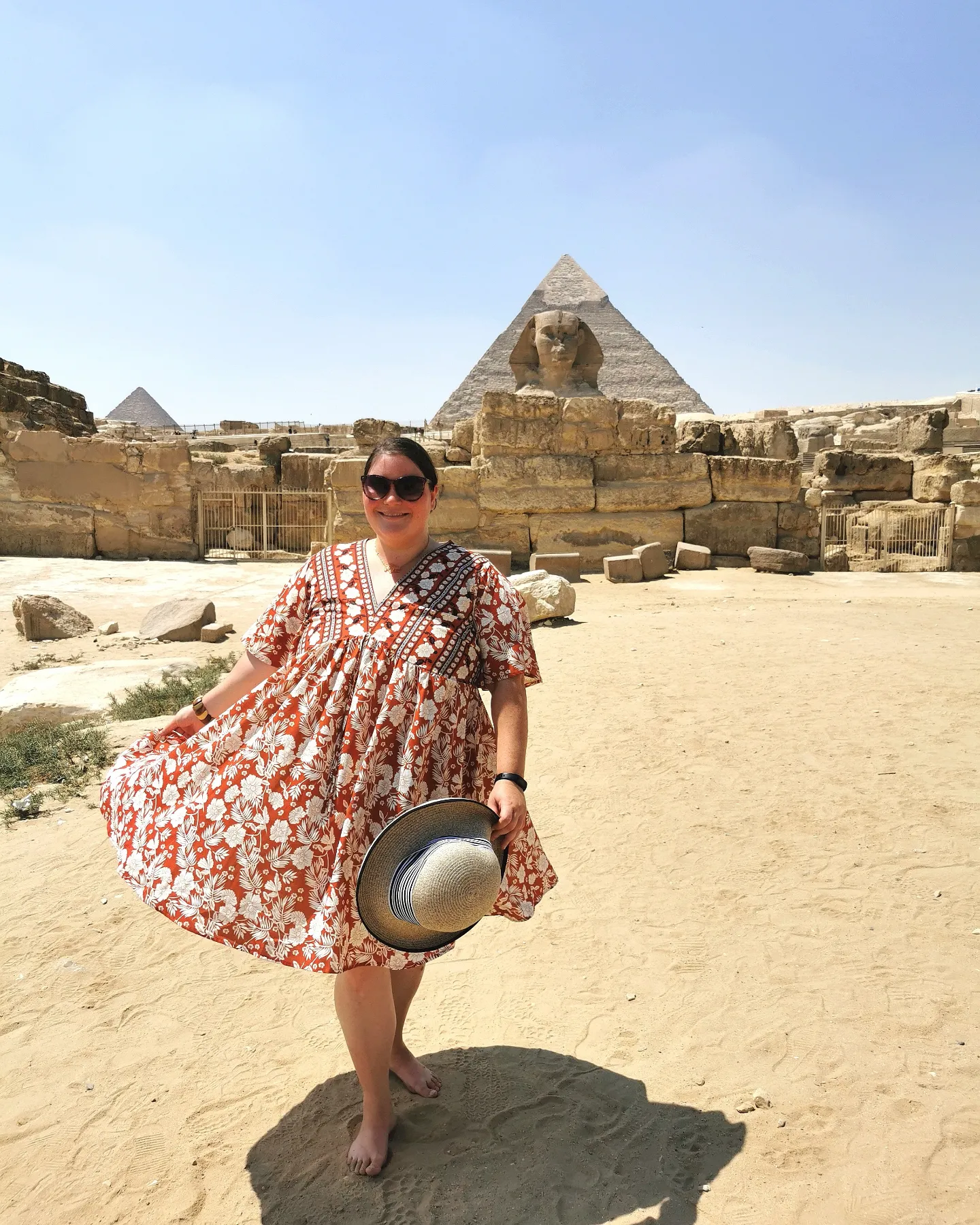 Day 3
Time to head to the Grand Egyptian Museum! I visited the old Egyptian Museum, and when I stayed in Cairo Hub Hostel it was just across Tahrir Square. They are in the process of moving all the artifacts from the old Egyptian Museum to the new one, so depending when you go you may go to the old museum or the new one. I can't wait to go back and see the new Grand Egyptian Museum! The old museum was really cool and lovely, but it was so hot inside and not all of the items were there.
If you're visiting the old Egyptian Museum, when you're finished there you should head over to Cairo Tower. It's about a 20 minute walk, or you could Uber.
Once here, you can go up to the observation deck to get one of the best views of Cairo! You can choose to have lunch at the café here or at a nearby restaurant.
For your final afternoon I would go to Al-Azhar Park, which is the greenest space in Cairo. Originally a landfill, it was converted in the mid 2000's to a green space that all can enjoy. You do need to pay a small fee, but that's both tourists and locals alike.
After a stroll in one of the worlds sixty great public spaces, walk the 20 minutes or so through Historic Cairo to one of the most impressive markets in the Middle East.
Khan El-Khalili, a dizzying maze of stalls filled with anything you could hope to find. Here you'll find gold, jewelry, scarves, clothing, antiques, trinkets, artwork, hookahs, lamps, perfumes, and even frankincense. Not only do you see goods being sold, sometimes you can see goods being created.
Khan El-Khalili has been around since the 14th century, and is an integral part of Egyptian life. There are stalls and cafes here over 100 years old! This is one of the oldest souks in the Middle East, meaning I geeked out while thinking of how much history I was surrounded by.
There are quite a few restaurants and cafes throughout the market, so I would eat dinner here before taking an Uber back to your hotel.
3 Days in Cairo itinerary break down
Day 1
-Great Pyramids of Giza
-The Sphinx
-Memphis
-Step Pyramid of Djoser
Day 2
-Coptic Cairo
-Islamic Cairo
-Coptic Museum
-Hanging Church
-Ben Ezra Synagogue
-Cairo Citadel
-Zooba
Day 3
-Egyptian Museum
-Cairo Tower
-Al-Azhar Park
-Khan El-Khalili Market
This 3 days in Cairo itinerary is perfect for showing you the ropes, getting you used to being in Cairo and seeing the best historic sites. If you have more time there is still plenty to do, such as the Great Mosque of Muhammed Ali Pasha, visit garbage city, the city of the dead, and so much more!
I would also add in a day trip to Alexandria if you're looking to escape the city! I did a day trip and loved it so much, I hope to go back and spend a few days in Alexandria.
What would you like to do most on this 3 days in Cairo itinerary?!