If you love the great outdoors, then you likely already recognize that traditional camping has a wide range of possibilities when it comes to modern amenities (think RV camping vs. pitching a tent). But get ready for the new kid on the block: glamping.
Here we have your ultimate guide to glamping. We're going to break glamping down for you, give you our top tips and advice, and make sure that you have an unforgettable glamping adventure!
Glamping 101: Your Guide to Glamping in Comfort and Style
What is Glamping?
There is no easy answer to describe the art of glamping. Originally, the concept of "glamping" was intended to fill a gap for adventurers who wished to experience the outdoors without the discomfort of tenting. Now, glamping can also mean elevating the entire traditional camping experience to a whole new level.
From luxurious tiny homes to exotic open-air yurts, the possibilities range from posh and almost hotel-like accommodations to rustic and just downright strange. With so many accommodation options, glamping is truly the outdoor experience for everyone – not just those adverse to camping.
From adventurers looking to transition into a new type of camping experience to those looking for adventures exploring specific locales, even for those looking to celebrate a special occasion surrounded by fresh air – glamping's possibilities are endless!
Choose Your Glamping Adventure
First, choose your home base. Glamping accommodations are just as varied as hotels. If you're a glamping beginner, here is a rundown of just a few of the different types of glamping accommodation out there.
Canvas Tents
Thicker and more sturdy than your typical outdoor camping tent, glamping tents are made of canvas and have generally much more space. With enough room for a full-sized bed, living space, and perhaps even a wood burning stove, you can treat it like a home away from home.
Of course, you can use any tent for glamping – but canvas offers a bit more of a buffer between your sleeping space and the effects of nature.
Yurts & Tipis
Taking a slice out of history, staying in a yurt or tipi is a great option and many are available for booking at National Parks as an alternative to traditional tenting. Expect a small, basic accommodation in a gorgeous setting.
Tree Houses
Exactly as the name describes – revert to your childhood and spend the night in a home above the ground. Especially popular at eco-resorts, tree houses provide a different perspective (literally!) on the traditional camping experience.
Tiny Homes
Tiny homes are trendy right now, and outdoor adventurers have realized they are also perfect for a cozy few night stay. For those who want to sample the tiny home lifestyle without the long-term commitment of a lifestyle change, glamping in miniature fashion is perfect!
Glamping is about being present in the moment, so be true to yourself and create your own adventure! Whether you're traveling solo or with a partner or close friend, you can always personalize your homestead to suit you.
DIY Glamping
If you have a location or site booked, but want to elevate your camping to new levels, you're halfway there! DIY glamping is a popular choice for holidays where you have the space and time to set up your site for a longer time period.
Besides the location, glamping is all about adding little extras that take the camping experience to a whole other level.
Get the Gear
Bedding
Glamping isn't only about where you sleep – but how. Splurge on a high-end inflatable bed to make sure you won't wake up chilly and damp. Ditch your sleeping bag and inflatable pillow — instead, opt for a head-to-toe blanket with a down pillow for extra comfort. You may even want to sleep in, so don't forget your sleep mask to keep out that bright morning light in the woods!
Tunes
To increase that homey feel, prepare a glamping playlist to help you start your day. Bring a cordless, waterproof speaker so that you can bring your morning wake-up playlist with you. Pack a portable solar panel (which may be found at many local recreational outlet shops) to recharge your gadgets while you enjoy the great outdoors.
Cooking over the fire doesn't have to be limited to hot dogs and hamburgers. Keep your favorite recipes on hand and make sure your snack station is fully stocked. Bring some extra-sophisticated snacks like gourmet seasoned nuts and eclectic granola mixes with you on the hike for a break from the everyday.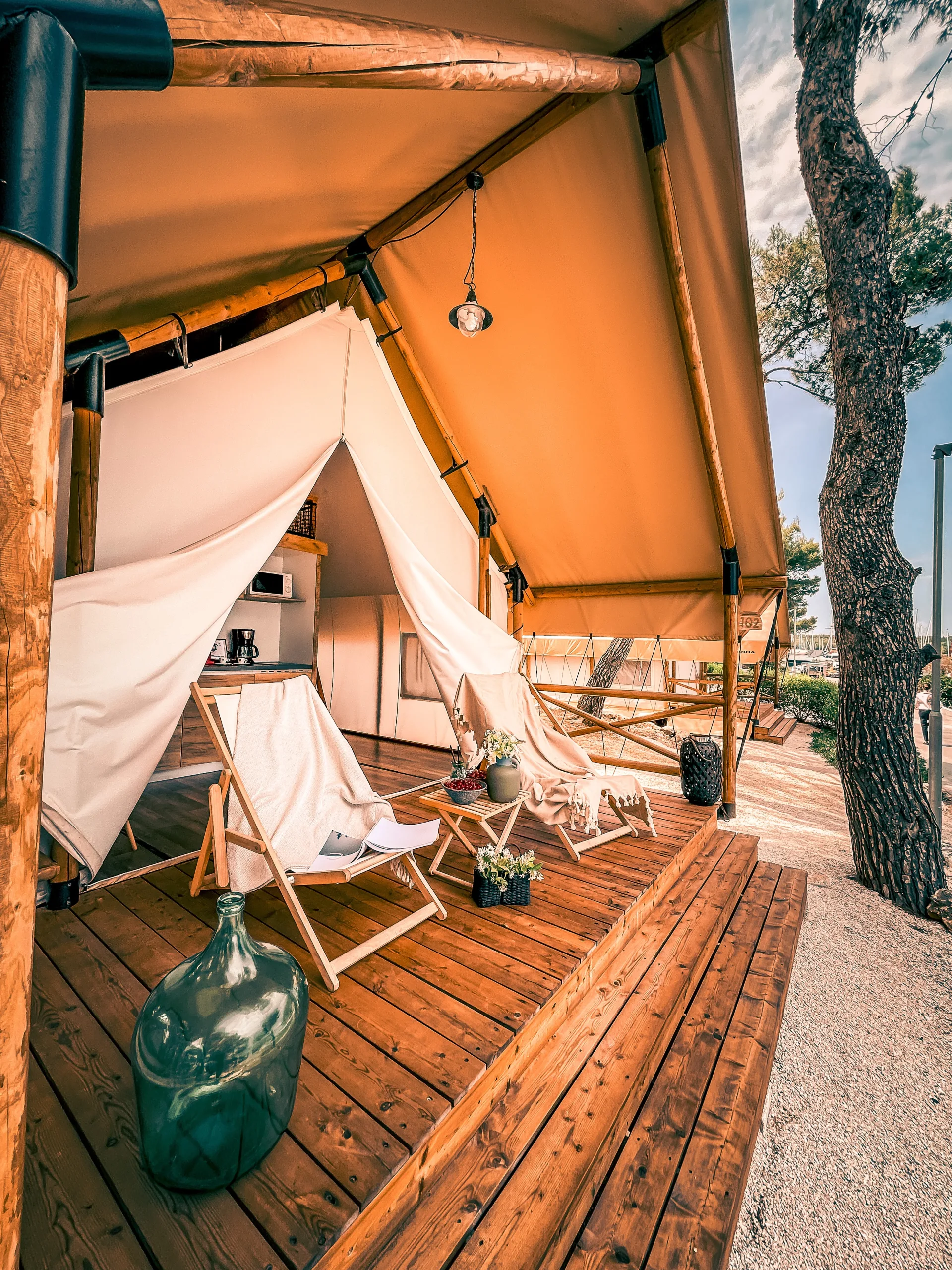 Drinks
Camping isn't glamping until you've upped your morning coffee or tea to the next level. Skip the watered-down camp store cuppa and set up a table for coffee, tea or cocktails in the evening. This little tea latte set is perfect for waking up in the morning. Pair it with a little table and some quality linen for a sip of luxury in the morning or afternoon. For those evening happy hours, ditch the cumbersome glass bottles and store your wine in flexible (and cute) linen flasks made for the great outdoors. Or try a fancy smoothie in place of your regular morning juice. Think beyond the basics!
Personalize
Some families customize signs on their site to announce their presence, but glamping can get as unique as you want. What better way to beautify your site than to hang one of these suncatchers from a tree nearby to make your site homier? Or, put one in the center of your tent to wake up to rainbow reflections on your outdoor home-away-from-home.
Other Extras
Beyond these basics, you can get as crazy or as weird as you want. Pack a carpet for the floor of your tent, make sure you have your slippers on hand and think of some activities to do to fill your time. Jigsaw puzzles or diamond art kits are great options to consider! Pack a hammock, a lamp, a table or a coat rack. Solar lights, movies, water toys: the possibilities are endless!
Now that you have read the ultimate guide to glamping, it's your turn to explore!
What are your ultimate tips for glamping?
Do you prefer camping or glamping?
Thank you so much to Katie Tejada (McDaniel) for this guest post!